Package Handlers


- Pick up and move heavy yarn packages with one hand, without ever touching the yarn itself. Many stock sizes available.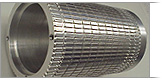 Embossing Rolls


- Modular rolls save time and money by allowing you to take out only the damaged portion of an embossing roll for replacement.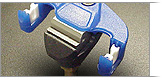 Detorque Airjets
- Take the torque out of textured yarn with reliable, efficient airjets. Performance and denier range available on request.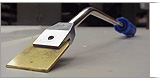 Spinneret Wiping Tools


- Ergonomic, robust, and cost effective tools for cleaning spinneret faces in the spinning process. Many blade options to match your specific pack.
Collapsible Drive Shafts


- Connect drives to pumps, motors to wheels, or any two rotating ends over a span with one of our drive shafts. Key features include varying length, incredible strength, and customizable universal joint ends.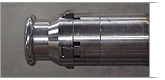 Dye Spindle Latches
- Safer and longer lasting than ball-bearing latches, these stainless steel stoppers will never allow top hats to 'fly off' a dye spindle. Uses the same press-activator as common latches.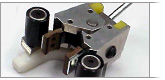 Spindle Brakes


- One-handed operation and spindle-saving spring pads mean that our brakes pay for themselves by preserving spindle bearings. Different sizes to choose from.
High Strength Dye Spindles


- Maximize air throughput AND dye spindle rigidity. It's possible with our proprietary spindle production technique. Top hats and latches also available.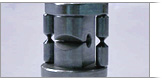 Splicing Airjets


- Seamlessly entangle two yarn ends with pressurized air with our amazing splicing jets. Models with and without guides are available.